About digitization
The films that have been processed by the lab are often used in video clips, video films or television programs. That is a positive thing. What I notice is that the quality of the video is much more worse than the original super8 footage. That's logical in a way, but this is mainly caused by bad transfers.
To understand how companies scan your super8 to video I made this short introduction. I am not a video person myself, so if you read this, and find there's something wrong let me know. My general advise would be that you ask the transfer company how they work before you send your work there. You will be surprised how many different qualities you'll get for the same amount of money. It's always good to know the different systems. There are three main groups that I would use to define all systems. Within the groups are different levels possible.
On the wall
The first systems works as follows. You project a film just straight on a wall. Then record this with a video camera. It is often used by small photographic shops 'around the corner' and amateurs. If you work very precise, the quality is not bad, but also not very good. There are still a lot of problems to solve like image steadiness, no hotspot, sharpness, colour correction for each scene and so on.
Telescreen
In the same category [with better results] you'll find the so called 'telescreen system'. I have used it myself and thought it was very nice if you want to spend as less money as possible but need an average quality. You could give results to friends for a fast screening of your work for example, and then decide what material is good enough for further professional scanning. There's only a very small hot-spot if you're not careful and at least you can record your full s8 frame.
Semi-pro
Method two uses a semi-professional super8 film projector which projects directly on a 3CCD camera. This is very good, and projectors were sold by Wittner Kinotechnik Germany. They did cost about Euro 7500,00 excluding other recording equipment like DVD, miniDV or VHS recorders. The advantage of this system is good colour reproduction, no 'hotspot' and sharp images all over the screen. But still you have the trouble that the image stability might not be perfect because this system still works with a normal projector transport system which is somehow unstable itself. At the end good quality for a good price. This system was widely used until about 2010-2015.
Semi Pro +
A much better semi professional system is build by the Dutch company FilmFabriek. This small device uses modern LED lightning and can be controlled in almost any way via a PC. It take a picture of every super8 frame one by one and is a small version of their flagship (see below). This machine gives a good result but it can always be better.
Professional
The third category is dived by these machines. These scanners deliver a high output if the people who operate it know how to master the software. The Moviestuff scanner is very well know and loved in the USA where it is also build. They are robust machines and the buyers gets a lot of value for $9000.
Professional +
One step better are both machines from FilmFabriek HDS+ which is about €32.500 and the MWA Nova scanner prices at about €45.000. In stead of using a projector they use the setup you can see here. The full transport mechanism is very stable and the claw, the shutter and the sprockets are removed. These scanners are made to use it for 8mm, super8, 9.5mm and 16mm film formats. They became immense popular among small transfer businesses because they are flexible. Also they can offer their customers all formats. Not only amateurs want their film digital, also professional users, music video makers and advertising agencies use film and digital to make their product.
This MWA Nova scanner has a very good price/quality ratio. MWA builds machines for the motion picture industry since ages and their build quality is still there in 2020. All handling is controlled via software so you have more options in colour, exposure, gamma en scene by scene corrections. The image quality is not only depending on the hardware.
Ultimate scanner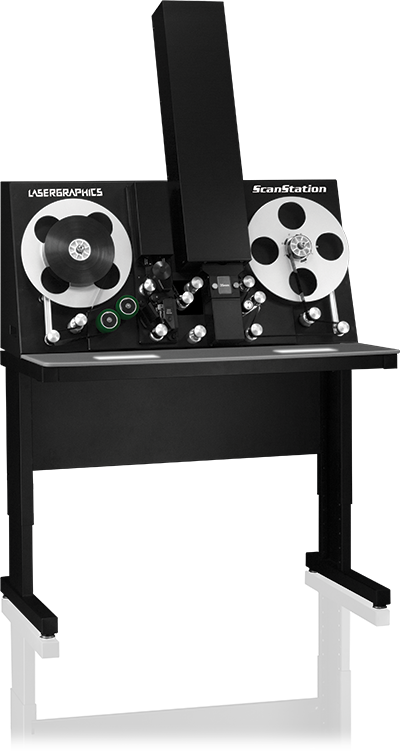 The most ultimate scanner for your super8 films is beyond any doubt this Scanstation by Lasergrapics with a price tag of about $250.000. It is designed for 16mm, 35mm and 70mm but this baby also focusses on the super8 format. You could get 6.5K scans in super8 (why you want that is another story). There is no company in Europe (as far as I know) that uses this machine for super8 transfers (write me if you know someone).
Finally
I just want to tell you that you should be aware what kind of quality you get for what money. So always ask what they do with your film, it there's 1 scratch on it, you can't get rid of it!
It is also important to understand that if you transfer your super8 to a digital file it does not mean the film is preserved. Digital files do not last for a very long time. The best way to preserve your super8 is to keep the original film safe and dry.
If you have interesting information send it to the lab. This page is just a quick guide. Finally here is a beautiful PDF with an overview of scan technology.