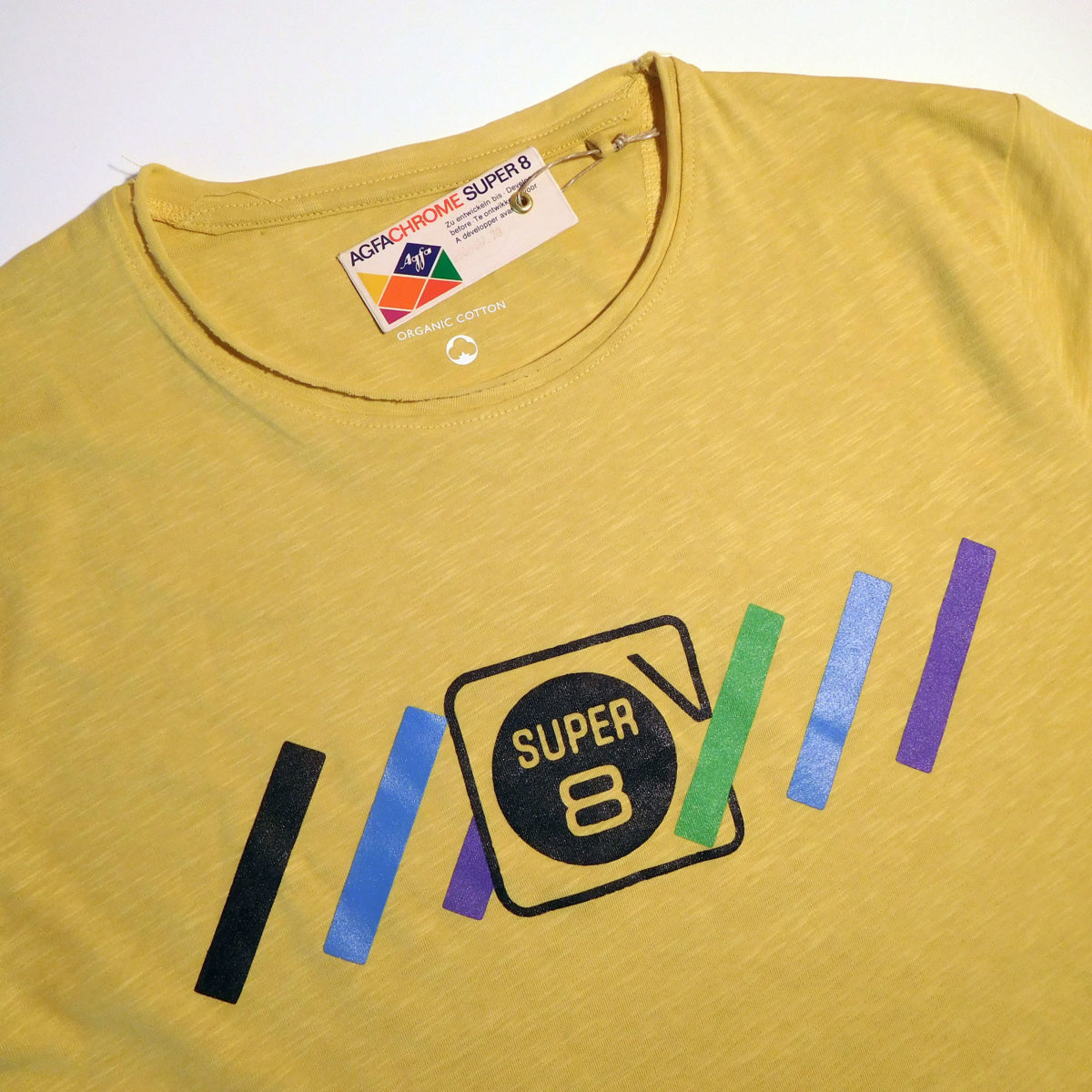 'Celebrate super8' limited edition T-shirt
7 Jun 2020
The design of this T-shirt represents the graphic style and feeling of the super8 film format we all love.
The garment will last for a very long time because it is a 4-colour silkscreen print on organic cotton, which is soft and comfortable to wear. There are only 30 vintage yellow T-shirts available. First come, first serve. You can be the owner of a one of a kind T-shirt.
Every garment comes with a promotion tag, made from original film boxes, they are hand printed on the back showing that you have purchased an original Super8 Reversal Lab product. Every T-shirt is shipped in an original Kodak box.
Each purchase supports the Super8 Reversal Lab in this difficult and unsecure Covid-19 period.
Physical sizes of the 'Celebrate super8' T-shirt in width x length
S = 49 x 70 cm
M = 52 x 71 cm
L = 54 x 72 cm
XL = 57 x 74 cm (sold out)
It will not be possible to return the garments for a different size. T-shirts cannot be returned for money.
Pricing T-shirts only
Euro 59,00 including 21% VAT.
(Euro 48,76 excluding 21% VAT)
To order a shirt simply send an email to the lab.
Sending and handling costs depends on your location.
Shipping Netherlands is Euro 15,00 including 21% VAT
(Euro 12,40 excluding 21% VAT)
Austria, Belgium, Denmark, Germany, France, Italy, Luxembourg, Spain, UK and Sweden shipping costs Euro 17,50 including 21% VAT
(Euro 14,46 excluding 21% VAT)
Europe shipping costs Euro 21,50 including 21% VAT
(Euro 17,77 excluding 21% VAT)
Non EU Europe shipping Euro 20,00 and 0% VAT
Rest of the world shipping Euro 32,00 and 0% VAT
Save money by ordering some super8 film stock at the same time.