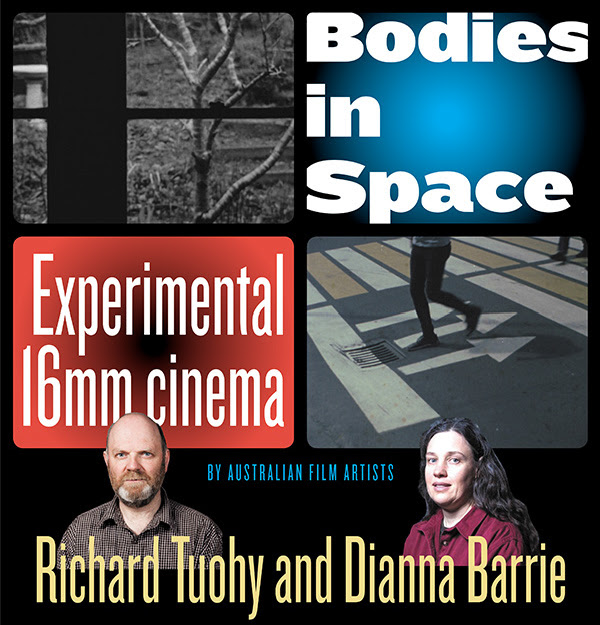 Experimental 16mm films
23 Sep 2023
Bodies in Space
Experimental 16 mm cinema by Richard Tuohy and Dianna Barrie
Wednesday 27 September at Stichting Ruimtevaart, Helena van Doeverenplantsoen 3, 2512ZB in Den Haag, Netherlands
Cinema open 8 pm, starting at 8:30 pm
Admission € 10,00, cash only, also at the bar, read here all details

A programme of short films by Australian experimental Filmmakers Richard Tuohy and Dianna Barrie that take us from windswept coasts to pulsating mega cities. The work revels in the energy of place as expressed through rhythmic movements of light and shadow and the wash of time as dissected into frames in the camera and reconstituted into flickering flow by the projector.
 
In and Out a Window  16mm, 2021, 12 mins
Our front window, from inside and out. Made during a long covid lockdown. A product of the distraction and abstraction that resulted from a lot of staring at the same pieces of glass. View clip.
 
Intersection 16mm, 2022, 10 mins
A staccato study of street level action and inter-action. People and vehicles on everyday journeys are atomised into coursing fragments of light, shadow, angle and inertia, reiterating and disassembling the creation of motion out of still frames at the heart of cinema. Filmed in ten cities on four continents. View clip.
 
Like a Lighthouse  2023, 12 mins
A blinding beam of light. The piercing sound of ships. Everything – the land, plants, the sky – shouts for attention. Perceptions assail us with their demands to be noticed. This film is kind of a home movie of a 5 day hike to the southern most tip of Australia.
 
Bus, Turning  2022, 7 mins
Barcelona, immediately after the independence referendum. Shot on black and white film stock using a re-invented colour separation technique. Dedicated to the spirit of independence everywhere!
 
Valpi  2019, 9 mins
A city of brick, tin and board, rent by internal tectonics and sliding into the sea.

Self Portrait with Bag  2020, 6 mins
A camera-less portrait of the artist. Super 8 cartridges placed inside a black cotton bag, the film advanced via a hand crank. The tiny gaps in the fabric weave make for dozens (hundreds? thousands?) of tiny pinholes. View clip.
 
China not China  2018, 14 mins
Hong Kong marked 20 years since its hand over; just under half way through the planned 50 year 'one country, two systems' transition. Taiwan, once imperial China, once Formosa, now ROC on the edge of the PRC. Multiple exposures of street scenes distort space and place creating a fluid sense of impermanence and transition, of two states somewhere between China and not China. View clip.
See some clips on the Vimeo page.