Kodak Tri-X super8
Film format: Super8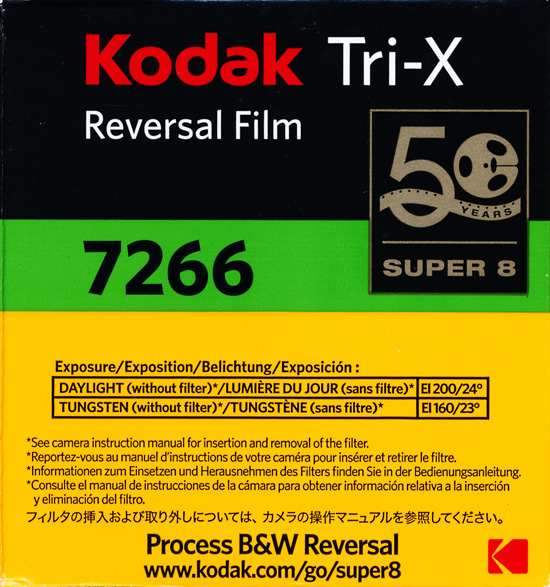 The best black/white reversal film at this moment if you ask the lab. We use an improved processing system for this super8 film. You can screen this film with a movie projector straight after processing. Almost any super8 camera can automatically expose this film.
Kodak Tri-X / 7266
Format: super8 cartridge
Type: black & white reversal film
Length: 15 meter / 50 ft
Running time: approximately 3 minutes at 18 fps
EI 200/24° for daylight (without filter)
EI 160/23° for tungsten (without filter)
Film projection: yes
Film transfer: yes
Technical data sheet manufacturer
The processing of this black/white reversal film takes 1 to maximum 3 weeks time. If you also request a transfer then add 1 to maximum 2 weeks extra.
This film is probably the most used and well known b&w super8 film. Not only because of it's high sensitivity. It has more beautiful black tones, grey tones and whites than any other film. The S8RL believes that it's the best all-round b&w stock there is.
This film seems to have a larger exposure latitude than 7278, but it is also more sensitive for overexposure. Best used when you have different light situations, or when you have low light available.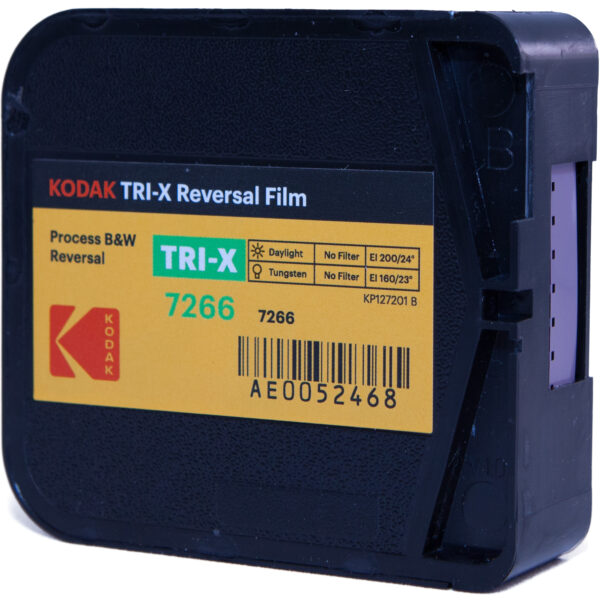 Example: check out some Tri-X films that were exposed by Jamie Noakes and processed in this lab.