Kodak Tri-X 16mm – 30m
Film format: 16mm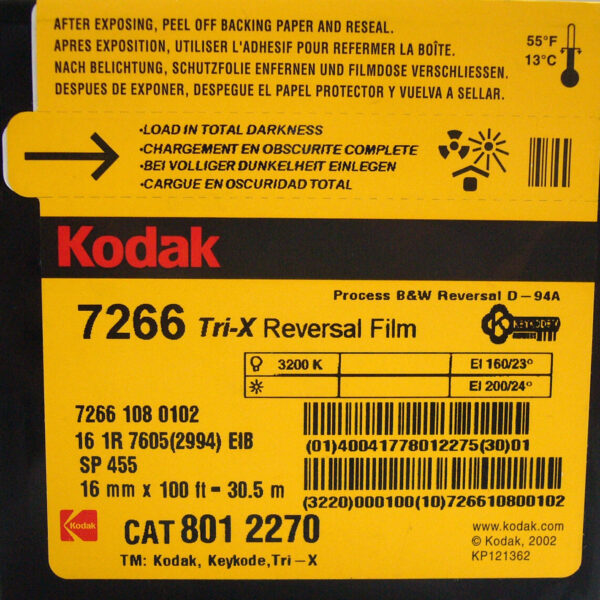 The best black/white reversal film at this moment if you ask the lab. We use an improved processing system for this super8 film. You can screen this film with a movie projector straight after processing.
Kodak Tri-X / 7266
Format: 16mm one edge perforated on camera reel
Type: black & white reversal film
Length: 30 meter / 100 ft
Running time: approximately 3 minutes at 18 fps
EI 200/24° by daylight (without filter)
EI 160/23° by tungsten light (without filter)
Film projection: yes
Film transfer: yes
Technical data sheet manufacturer
Kodak uses 'EI' what stands for 'Exposure Index'.
How to understand a Kodak film can label here.
In general most 16mm film makers shoot Kodak Vision-3 or Kodak 7222 negative films. That is because these emulsions are more flexible with exposure. If you want to screen your film immediately after processing you will need this beautiful Tri-X black/white reversal film not only because of it's high sensitivity, it also has more black tones, grey tones and whites than any other film. The S8RL believes that it's the best all-round b&w stock there is. Order this 30 meter roll if you own a 16mm camera, the reels have a diameter of 92 mm.